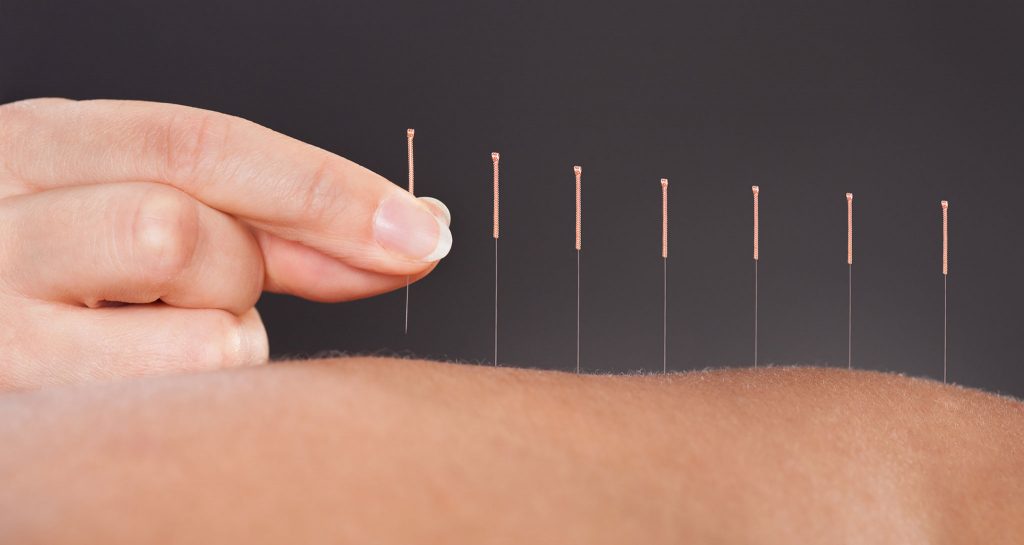 What is Acupuncture
Acupuncture is a tried and tested system of complementary medicine/healthcare that originated in the far east thousands of years ago.  It aims to create balance within the bodies energetics. It looks at pain and illness as a sign the body is out of balance and attempts to restore the equilibrium. Pain or illness occurs when the body's Qi or energy is stuck, and cannot flow freely.  There can be many reasons for this such as physical problems, emotional energy, poor diet, stress, anxiety, infection etc. By inserting ultra-fine sterile needles into specific acupuncture points the aim is to unblock and re-establish the free flow of Qi, triggering the body's natural healing response.
I use pre-steralised single use needles that are safely deposited after use.
Treatments are carried out in a professional, safe  environment adhered to by the BAcC Code of Safe Practice.  All treatments are recorded by myself and records of your health condition are kept locked away in a secure place.  My treatment room conforms to the codes of safe practice and has been approved by the local environmental health officials.
Does Acupuncture hurt?
Acupuncture needles are very fine and most people don't feel them inserted.  Occasionally you may feel a numbing / tingling sensation which is normal and does not usually last too long.   Throughout the treatment you will gain a sense of relaxation and calmness whilst the body is re-balancing itself.
What should I do before treatment?
Please ensure you eat a light meal at least 1 hour before treatment/ Please also avoid alcohol and food/drink that may discolour your tongue. It is a good idea to wear loose fitting clothes so that acupuncture points are easily accessible.
What happens during my first consultation?
During your first visit we will talk about your general health and lifestyle which involves asking questions about sleep, appetite, mood, fitness etc.  The initial consultation can take up to 1.5 hours as I go through your medical history.  Tongue and Pulse examinations are carried out to enable a further understanding of your condition and may highlight further areas of concern / improvement that is used to to create a treatment plan.   If you are currently taking medication I usually ask you to bring along either the packaging from each prescription or write down the names of all medication taken.  You may feel drowsy after your treatment so it is advisable to take a few minutes to rest, have a drink of water before driving away.
Dietary advice maybe given during the consultation.
Follow up treatments
Follow up treatments usually last 1 hour. It is recommended that you should have at least 6 treatments in order to feel the full benefit of Acupuncture.
Prices
Initial Consultation – £40 (Duration 1 1/2 hr including treatment)
Follow Up Treatment – £35 (Duration 1hr)
How can you book?
To book please ring us on 01757 269100 or 07711 155 550, email us on info@acupuncturesolutions.co.uk or fill in the form to the right.    If you would like to know where we are based please visit our contact us page.
To keep up to date with news and events please follow us on facebook @acupuncturesolutions 
What can Acupuncture treat?
Eye, Ear, Nose, Throat Disorders
Sinusitis
Sore Throat
Hay Fever
Earache
Nerve Deafness
Ringing in the Ears
Dizziness
Poor Eyesight
Circulatory Disorders
High Blood Pressure
Angina Pectoris
Arteriosclerosis
Anemia
Gastrointestinal Disorders
Irritable Bowel Syndrome
Spastic colon
Colitis
Constipation
Diarrhea
Food Allergies
Ulcers
Gastritis
Abdominal Bloating
Hemorrhoids
Gynecological / Genitourinary Disorders
Premenstrual Syndrome (PMS)
Irregular, Heavy or Painful Menstruation
Endometriosis
Menopause
Fibroids
Chronic Bladder Infection
Complications in Pregnancy
Morning Sickness
Kidney Stones
Impotence
Infertility in Men and Women
Sexual Dysfunction
Immune Disorders
Candida
Chronic Fatigue
HIV and AIDS
Epstein Barr Virus
Allergies
Lupus
MS
Hepatitis
Addiction
Smoking Cessation
Drugs
Alcohol
Emotional and Psychological Disorders
Anxiety
Insomnia
Depression
Stress
Musculoskeletal and Neurological Disorders
Arthritis
Neuralgia
Sciatica
Back Pain
Bursitis
Tendonitis
Stiff Neck
Bell's Palsy
Trigeminal Neuralgia
Headaches and Migraines
Stroke
Cerebral Palsy
Polio
Sprains
Muscle Spasms
Shingles
Respiratory Disorders
Asthma
Emphysema
Bronchitis
Colds and Flus
Acupuncture Also Treats
Chemotherapy/Radiation Side Effects
Diabetes
Dermatological Disorders
Weight Control